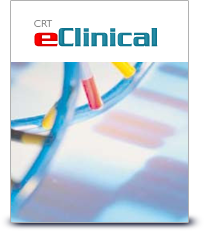 eClinical - Full computerization
of a clinical trial
The acceptance and adoption of new technologies has made the complete management of clinical trials in RDE (Remote Data Entry) mode possible by exploiting broad band (ISDN, ADSL) Internet connection.
In practice, any activity required by participants for clinical trials (centres, CRO/Sponsor, Monitor) can be performed through an application available online and accessible via a specific Internet address.
This solution allows for the centralization of information and activities directly within the Internet site devoted to the trial (documents, data, statistics, reports, alerts, etc.). Through the activation of particular analysis tools, it is possible to obtain data in real time (regulatory situation, randomization progression, etc.). Another unquestionable advantage is the assurance of data quality and safety. Within the platform there are various programmes designed to monitor the quality of data written in electronic formats. These electronic formats undergo a series of controls (logical and plausible), certifying their quality before being stored.
Data safety is ensured through a series of software (data mirroring, alerting systems, database architecture, etc.) and hardware (cartridge full backup, hot swap hard-disk with raid 5 system, etc.) high quality service devices.





Another advantage of this software is data access. There are various access profiles (user, administrator, etc.), each of which are authorized to display specific information for tailored management.This clinical trial management mode allows one to analyze any phase of the trial and data in the database, due to an automated system the need to forward data is no longer required.
The method of approach used in the platform design phase is best characterized by having balanced the exigency to implement the application according to "Good Clinical Practice" and ensuring it is user friendly and safe, a need based on feedback from clinical researchers.
The computerization of most typical activities in research projects, not limited only to the clinical data input phase, allows us to define e-Clinical as an ERP (Enterprise Resource Planning) advanced system.
The platform is structured with specific sections dedicated to clinical data management and implementing processes for:
Sites data and participant investigators' data
Integrated communication system (multiple videoconference, messages, etc.)
Notice board for communications to be sent to all sites
Documents useful and common to every centre
The protocol of the trial
Data files (in electronic format)
Work flow eClinical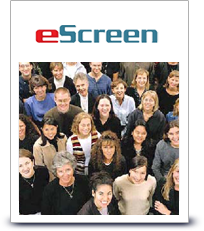 eScreen - Full automation
of population screening
In the designing and implementation phase of the platform eScreen, we have preferred some aspects, such as usability and ease of management, safety and system reliability, but also the workflow of processes made by the various people participating to a screening project.
Processes like:
invitations
acceptance
outpatient clinics management
first-level examination reporting
bookings for second-level examinations
reminders and re-invitations
alert systems (quality indicators and clinical activity)
are the subject of active monitoring by an expert system verifying possible clinical abnormalities, but also waiting times urging the person in charge of the process (alert communication released through the internal messaging system) in case quality parameters previously set are not satisfied. eScreen is the necessary tool for screening projects desired to raise the qualitative level of supplied services from the point of view of overall decreased costs, considering the whole diagnostic-therapeutical path in a global way.





Safety
eScreen provides a standard SSL 128 bit protected connection. It also conforms to the law 196/2003 attachment B. Each user has their own access keys. All operations made by the user are univocally associated and tracked within tables created on purpose. There is, consequently, a direct link between the data stored in the database and the user writing them. Data stored in the database is never physically cancelled. eScreen allows to reconstruct any information previously edited or cancelled. Redundant devices, both as software (data mirroring, SMS alerting systems, database architecture, etc.) and hardware (full backup on cartridge/cd-rom, hot swap hard disk with raid system, etc.) are provided.
Usability
eScreen was designed to be easy and intuitive. eScreen ensures the management of all activities provided in a logical chronological order as to the development of a screening trial.eScreen provides a graphical user interface. Through images, buttons, menus and icons, we have created a user-friendly interface.
Modularity
eScreen has a modular architecture which can grow during time. Starting from a single Local Health Office, it is possible to associate further Local Health Offices of the same region (wide areas phenomenon), integrating them during subsequent phases. Providing economic benefits, the modular approach allows a great capability to integrate the proposed solution with the existing technology. Interfacing with the Only Booking Center of each Local Health Office or of the whole Region or with the Center of Laboratories/Outpatient Clinics reporting systems associated with the screening trial are ensured by various tools capable of making data compatible and standard. Each module is able to make a specific task. Modules are made up of various units, specialised in supplying specific services. According to access profiles and to projects needs, for each user it is possible to activate or deactivate specific modules (admin profile).
The whole of the modules can be divided into three main functional areas:
Modules for the management of the administration process

Personal data management
Invitations management
Activities

Modules for the management of the clinical process

Screening
Second-level examinations
Surgery

Modules for the management of the communication systems
Work flow eScreen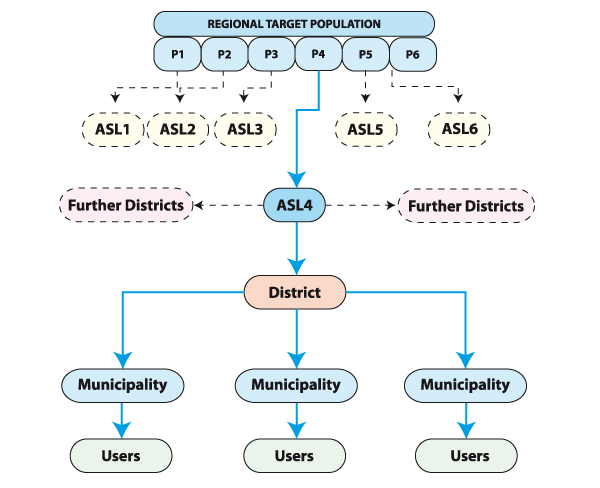 KeyPower - the solution for clinical trial on "personal care/cosmetics products"
kP is the solution that CRT offers to the companies operating in the cosmetics and personal care fields, to enhance their own products attesting the safety and the efficacy, through a real clinical study, inside hospitals and with specialized medical personnel.
Through kP, CRT provides its own decades of experience in the management and conduct of clinical trials, even for this type of products.
kP includes a set of services that can handle all stages of a clinical trial:
writing clinical protocol
definition of statistical sample
CRF (Case Report Form) in electronic format for data collection and validation
selection of the center where the clinical tests will be carried out
management of ethical-administrative procedures
final paper with the results of the study
kP is the solution that allows companies to assess the safety and efficacy profiles of their own products already present on the market, through a proper clinical study.

ePv - Pharmacovigilance
ePV Pharmacovigilance, is a web application designed by CRT for small and medium companies for its easiness in use, to ensure compliance with current legislation for the post marketing surveillance.
The main functionalities include:
Case data entry
Case Management
Report Creation
Export data in excel file.
ePV support both MedDRA and WHO-Drug Dictionary and manages E2B